Why the Secured Visa® credit card?
No Annual Fee1
for the Affinity Secured Visa® credit card, ever
Variable APR1
on balance transfers and purchases you make, every day
Build Your Credit
responsibly without paying high rates or outrageous fees
The APR you want without the fees
With the Affinity Secured Visa® credit card, get access to a low 15.85% variable APR—all without having to pay any annual or hidden fees.

Visa® Zero Liability2
You're protected if your credit card is lost, stolen or fraudulently used

No Penalty APRs
Affinity does not apply rate increases for missed payments1

Flexible Limit Increase
Increase at any time by adding more funds and requesting an increase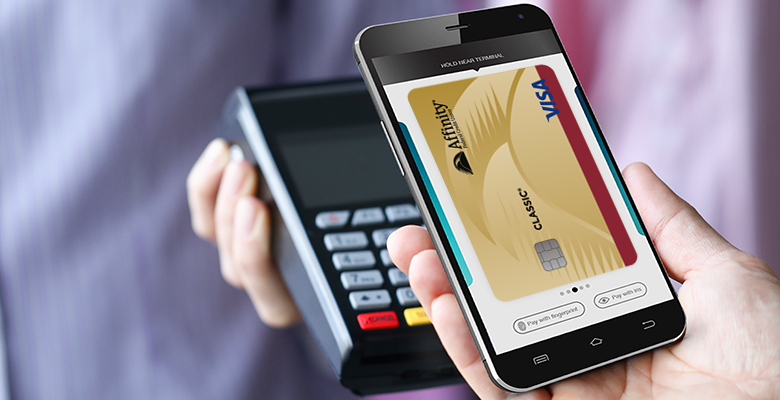 Paying Without Plastic, Securely

Tap to Pay® or put your card in your digital wallet to use with Apple Pay™, Google Pay™ or Samsung Pay™.



VIEW OTHER AVAILABLE AFFINITY CREDIT CARDS
Affinity members get more than just great rates
Affinity is a credit union—not-for-profit financial cooperative that exists to serve members. In fact, we're actually owned by our members—and with our Secured Visa® Card you get all sorts of perks: low 15.85% variable APR, access to Visa® Zero Liability coverage, Tap to Pay® for contactless payments, and so much more. All with no annual fees—and minimum deposit requirements that are typically lower than what you'll get at other financial institutions.
APPLY NOW
HOW TO GET A SECURED VISA® CREDIT CARD
1
Join Affinity!
Our credit cards, checking accounts, and other services are for members only. Joining is easy:
Join online
or call us at
800.325.0808
.
2
Choose the most convenient way to apply
3
Sign your card and start using it to help build your credit
Plus download the Affinity FCU Card App today and help protect yourself with transaction alerts, card controls, geolocation settings, and Visa® Secure.
CREDIT CARD RELATED ARTICLES
FREQUENTLY ASKED QUESTIONS
Can credit unions give credit cards?
Yes. Credit unions can offer credit cards along with most or all of the services people typically associate with banks, such as checking accounts, loans, investment services, and business checking.
Is it hard to get a credit card from a credit union?
If you belong to a credit union, the staff will typically try to work with you to help you get access to the financial services you need as a member. So, for example, if there's a problem with credit scores, it may be easier to get the credit card you want from a credit union, compared to getting a comparable card from a bank or other financial institution.
Is a credit union card a credit card?
A credit card from a credit union works the same way as a credit card from a bank or financial institution. However, because credit unions are member-owned, they may charge lower rates and offer better rewards to satisfy member needs.
Do credit unions charge balance transfer fees?
Yes. There is typically a balance transfer fee when a sum is transferred to a card.
Affinity credit card account questions
How do you earn cash back on a credit card?
Depending on the type of rewards card, you'll earn a certain number of points for qualifying purchases. Points never expire. You can redeem those points for cash back and other kinds of rewards. If you want cash back, you can receive it in the form of a cashier's check, Affinity Visa gift card, credit to your credit card, savings account deposit, or checking account deposit.
Are there restrictions on travel rewards with Affinity?
No. You can redeem your points for airline tickets, hotel stays, cruises, or other vacation getaways. There are no blackout dates, no advance notice requirements, no Saturday night stay limitations, and no round-trip requirements. You also have the option to redeem your points toward all or part of your ticket.
Can I use my Affinity Credit Card for mobile payments?
Yes. You can put your card in your mobile wallet and use it with Google Pay™, Apple Pay™, and Samsung Pay™.
Do Affinity Credit Cards have an annual fee?
No. All our credit cards have $0 annual fees.
Join Affinity Federal Credit Union
How do I join Affinity?
Almost anyone can be eligible for membership! We have relationships with over 2,000 businesses, associations and clubs, and you can join Affinity through your association with one of them.

If you are not eligible through one of these paths, you have the option to join by making a one-time $5 donation to the Affinity Foundation whose vision is to end the cycle of poverty for those we serve.
What is the fee to join?
With Affinity you are more than a member, you are part owner. Affinity is owned and controlled by members who use its services.

This ownership happens when you establish your $5 membership account, which gives you one par value share in Affinity. This is not a transactional account, and these funds will not earn dividends. The account must remain open and funded with the $5 during your membership with Affinity.
Where is the closest branch location?
Our digital tools, such as the Affinity Mobile Banking App and Online Banking, make it easy to manage your account and deposit checks right from your phone. You can also view our branches, shared branching locations and ATMs by visiting Affinity locations.
What is the difference between a credit union and a bank?
Credit unions, unlike banks, are based on a cooperative or "co-op" model in which the members are also the owners. This is the biggest difference between credit unions and banks. While a bank is a for-profit company that distributes profits among shareholders or individual owners, a credit union is a not-for-profit institution "owned" by its members. Therefore, you can think of credit union membership as buying a stake in an organization rather than paying somebody else in exchange for services. Learn more.