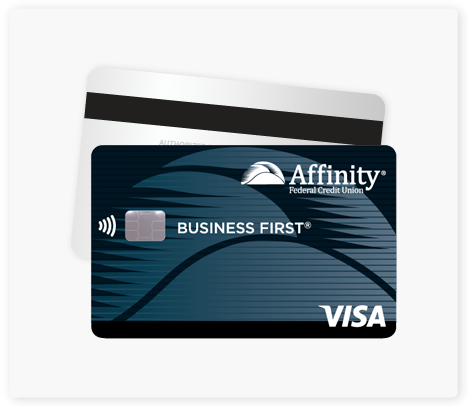 The Affinity Business FirstSM Visa® Credit Card: Earn Rewards for Your Business!
The Affinity Business FirstSM Visa® Credit Card offers low-rate, no hidden fees and a rewards program that lets you earn points for every purchase. Plus you'll enjoy security, savings and additional benefits.
The perks you want without the fees
With the Affinity Business FirstSM Visa® Credit Card, you can earn points on every purchase and take advantage of the card benefits, all without having to pay any annual or hidden fees.

$0 Annual Fee
There is no annual fee for the Affinity Business FirstSM Visa® Credit Card

Earn up to 6x Points
Earn up to 6x bonus points by shopping at our Rewards website3

5,000 Bonus Points
Get 5,000 bonus points with your first purchase1

Redeem Points for Rewards
Our points never expire and you can redeem points on hundreds of great rewards including: Travel, Cash back, Gift cards, and Merchandise

1 Point for Every Dollar
Earn 1 point for every dollar spent2

No Penalty Fees
No penalty rate increase for late payments
Visa Business Benefits
1
Security
Fraud Protection: Real-time monitoring of your account for suspicious transaction activity.
Online Shopping Security: Activate Visa Secure and get an extra layer of protection when you shop online.
2
Savings
Visa SavingsEdge Discounts4: Enroll your Affinity Visa® card for free, make qualifying purchases and save automatically at many places you may already do business.
Shopping Discounts: Use your Affinity Visa® to get special discounts on purchases, auto rentals, hotels, and more.
3
Peace of Mind
Emergency Cash/Card Replacement: In the event of an emergency, get access to cash and/or a replacement card.
Purchase Security: Reimbursement for the cost of eligible items purchased with your card in case of theft, damage due to fire, and more.
Extended Protection: Doubles the manufacturer's warranty coverage on items purchased with your covered Visa card (for eligible warranties of three years or less).
Auto Rental Coverage: Excellent coverage for collisions or theft of most rental cars paid for with your card.
Travel and Emergency Assistance: Help with medical, legal, and travel services.