Here For Your Child's Financial Journey
From setting up your child's first savings account and teaching them how to use a debit card, to helping them plan for college and buy their first car, Affinity is here to support your child's financial journey.
No Fees
Have peace of mind knowing there are no minimum balance requirements or monthly account fees with eStatements¹.
1% Cash Back
Your teen can learn the power of cash back by earning 1% cash back² on their everyday purchases.
Early Pay
Once your child starts their first job, they'll be excited to get their paycheck up to 2 days early with Early Pay³.
Card Controls
Turn your child's card on and off, restrict transactions or set transaction alerts so you're always in-the-know.
30,000 Fee- Free ATMs
Off to college? No problem. Your student has access to more than 30,000 fee- free ATMs nationwide.
Digital Tools
Managing their money on- the- go or depositing the check for mowing the neighbor's lawn is easy with the Affinity Mobile Banking App.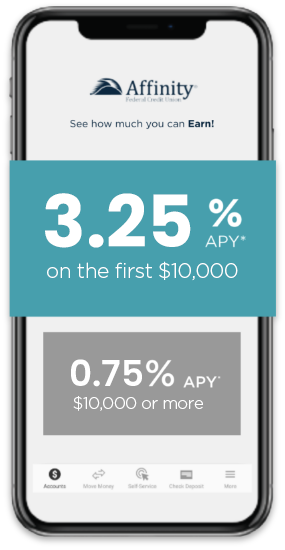 A SMART START TO SAVING
Build a solid foundation for saving and teach the importance of earning dividends with SmartStart Savings.
EARN MORE WITH LESS
Your child can watch their balance grow by earning 4.00% APY on the first $10,000.5
NO BALANCE REQUIREMENTS
With no minimum balance requirement, it's easy for your child to save at their own pace.
AUTOMATIC SAVINGS
Make saving simple by setting up regular, recurring transfers from your account or direct deposits right into your child's SmartStart Savings.
PARENTAL PEACE OF MIND
Shared Account Access
With 24/7 online banking access to your child's account, you can see balances, view transaction history and make account-to-account transfers.
Card Controls
Turn your child's card on and off, restrict transactions or set transactions alerts so you're always on top of it.
Alerts & Notifications
Set automated alerts to stay in the loop about changes to an account balance, large transactions, and more.
FREQUENTLY ASKED QUESTIONS
What is the fee to open a youth account?
With Affinity you are more than a member, you are part owner. Affinity is owned and controlled by members who use its services.
This ownership happens when you establish your $5 membership account, which gives you one par value share in Affinity. This is not a transactional account, and these funds will not earn dividends. The account must remain open and funded with the $5 during your child's membership with Affinity.
Will my child's money be insured?
Yes, your money is safe at a credit union. Affinity is a federally insured credit union, which means that all deposits are protected by the National Credit Union Share Insurance Fund, with deposits insured up to at least $250,000 per depositor.
Where is the closest branch location?
Our digital tools, such as the Affinity Mobile Banking App and Online Banking, make it easy to manage your child's account and deposit checks right from your phone. You can also view our branches, shared branching locations and ATMs.
What is the difference between a credit union and a bank?
Credit unions, unlike banks, are based on a cooperative or "co-op" model in which the customers (or, as we call them, "members") are also the owners. This is the biggest difference between credit unions and banks. While a bank is a for-profit company that distributes profits among shareholders or individual owners, a credit union is a not-for-profit institution "owned" by its members. Therefore, you can think of credit union membership as buying a stake in an organization rather than paying somebody else in exchange for services.