Earning Your Degree Was a Big Achievement
But if you're like most graduates, the burden of student loans could be a major roadblock to your next goal. Maybe you want to buy a home, start a family or see the world.
Consolidating your student loans could be your solution. This process groups all your student loans together (both Federal and private) into a fixed rate and just one monthly payment, so you can:
Save money every month - potentially thousands over time
Eliminate payment shock with a low, fixed rate
Opportunity to pay off your loan faster or extend it for lower payments
Save time and hassle with the convenience of one easy payment
Fixed APR as low as 7.99%1
Our fixed-rate Student Loan Consolidation Program lets you enjoy predictable payments without worrying about fluctuating rates. With flexible terms you can choose the one that's right for you.
It's Easy & Affordable
Our Student Loan Consolidation Program is a smart way to consolidate and refinance your Federal and/or private student loans.
Competitive fixed rates and flexible terms available
No application or prepayment fee
0.25% discount with automatic payments from your Affinity checking account1
Loans starting from $7,500 for qualified borrowers2
Who Can Refinance?
Our Student Loan Consolidation Program could be a great option if you:
Are currently paying back student loans and want a better rate or term
Have had a full-time job for the past six months
If you're considering refinancing Federal student loans, be sure that you're comfortable giving up the protections that Federal loans offer (such as income-driven repayment plans, deferments or forbearance, and loan forgiveness programs).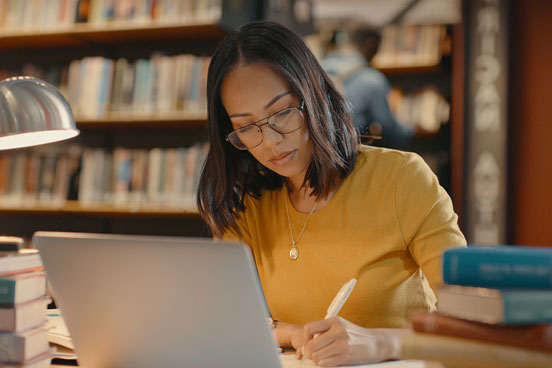 Looking for competitive in-school repayment rates?
Check out the The Affinity Smart Option Student Loan® by Sallie Mae®. The Smart Option Student Loan is now also available to students at participating non-degree granting schools for professional training and trade certificate courses (culinary, technical, etc.).
FAQs
Are there any fees associated with this loan?
There are no application or origination fees, and there are no prepayment penalties with Affinity. Late fees will apply for past due payments.
Can I consolidate my student loans if I am still in school?
Yes, but you must meet all qualifying criteria and guidelines. Additionally, the funds being consolidated cannot be for current post-secondary education expenses, but for the degree you earned. Funds will be disbursed directly to your current lender(s) or servicer(s).
Do I have to be an Affinity member to apply for the Student Loan Consolidation Program?
Yes, you must be a member of Affinity to apply for a loan. If you are not a member, simply click Join Affinity from our main web page, call our Member Service Center at 800.325.0808, or visit any Affinity branch.
How does a Federal student loan differ from a private student loan?
Federal student loans may offer certain benefits and options, such as income driven repayment plans, payment deferments or forbearance, and other protections that private student loans may not offer. However, not all borrowers qualify for such benefits with their Federal loans, and they may be forfeited when the loans are refinanced or consolidated in a private education loan.
What is the minimum amount I can consolidate?
Affinity offers education consolidation loans for amounts as little as $75002. Borrowers must meet eligibility requirements.
All loan amounts are inclusive of total unsecured loan balances with Affinity.
If I go back to school, will my loans go into deferment?
No, unlike Federal student loans, there is no deferment, forbearance or repayment plans available.
Is student loan consolidation right for me?
Consolidating education loans is a great option for those looking to simplify their monthly payments into one, convenient payment. By refinancing to a shorter term with a lower interest rate, members have the opportunity to save on interest costs over the life of the loan. Alternatively, some borrowers may choose to extend their term in order to reduce their monthly payment.
Transcripts or diploma (unofficial transcript is acceptable)
Current payoff letter from current servicer
Verification of income (when applicable)
Self-certification form (when applicable)
What is a payoff letter and where do I find it?
You can obtain this letter from your current lender(s) or servicer(s.) It includes the amount that will completely pay off your loan at least 10 days in the future. This amount takes into account the loan balance, accrued interest and any fees due. Monthly billing statements do not include all of the necessary information and are often times not acceptable.
What loans can I include in my consolidation?
Affinity can consolidate both Federal and private loans. Applicants must be a borrower on all of the loans they are including, and these loans must have been used for their post-secondary education. Parent Plus loans are not eligible for consolidation with Affinity.
Who do I contact if I have questions about consolidating my student loans?
You can contact our Member Service Center at 800.325.0808 or visit any Affinity branch for more information on Affinity's Student Loan Consolidation Program.

Additionally, you may obtain information on Federal student loan consolidation by visiting https://studentaid.ed.gov/sa/repay-loans/consolidation, by contacting your current loan lender or servicer or by contacting your student financial aid office if you are still enrolled in school.
Who is eligible for Affinity's Student Loan Consolidation Program?
Consolidation of your existing education loans is only available for applicants with qualified loans from a Title IV institution. Upon completion of your application we will verify the information you provided and collect additional information from you (and your co-signer, if applicable) in order to determine whether you qualify for the loan. Loans that were used for exam preparation classes, trade schools or non-accredited institutions, among others, are not eligible for consolidation with Affinity Federal Credit Union.
Available to US Citizens or Permanent Residents only
Minimum of six months full-time employment
Must have a minimum credit score of 600
Student loans must be in good standing
Loans included must have been used for borrower's post-secondary education from a Title IV accredited school
Applicant must be a borrower on the loans being included in the consolidation loan
Borrowers may need to add a creditworthy co-signer if they do not meet individual eligibility requirements.