Why Affinity
Joining Affinity means becoming a member of a full-service credit union with a community of people you can trust. Our goal is to join you along your financial journey to ensure you have the solutions, knowledge, and tools to achieve financial independence and peace of mind.
JOIN NOW
Our Mission
Affinity exists to improve the financial wellbeing of our members and the communities we serve by making their unique dreams a reality!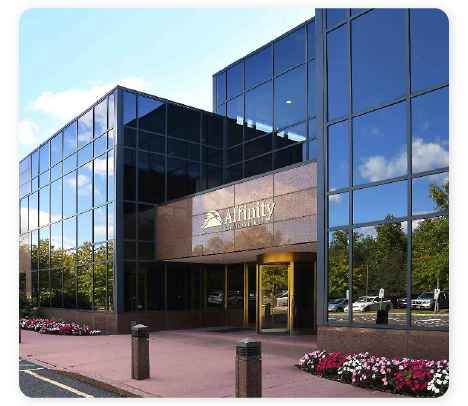 OUR STORY
Founded in 1935, Affinity was formed as the W. E. Headquarters Federal Credit Union to serve financial needs and provide cooperative credit to employees of the Western Electric Company.

Today, Affinity proudly serves members across the nation, with branches and ATM's located throughout New Jersey, New York, Pennsylvania, and Connecticut. The largest credit union headquartered in New Jersey; Affinity consistently ranks in the top 2% of all credit unions in terms of asset size. We are a member-owned, not-for-profit, full-service financial institution and federally insured by the National Credit Union Administration (NCUA).
Our Values—What We Believe In and How We Behave
Trustworthy
As a not-for-profit credit union, we believe in doing what is right for our members—not what makes shareholders money.
Passion for Service
We are committed to providing a great member experience by delivering excellent service with a friendly, welcoming smile.
Accountability
We are dedicated to providing our members with financial solutions that actually make a difference in their daily lives.
HOW TO JOIN AFFINITY FEDERAL CREDIT UNION
1
Through Associations & Clubs
Simply join the association or club that's right for you, and you'll be automatically eligible for membership. Once you are an Affinity member, your immediate family and household members are also eligible to join Affinity.
2
Through Your Employer
Over 2,000 businesses are part of the Affinity community. Once you become an Affinity member, immediate family and household members are also eligible to join. See if your employer is part of the Affinity family.
3
By Making a Donation
By making a one-time, $5 donation to the Affinity Foundation whose vision is to end the cycle of poverty in the communities we serve. To learn more, please visit
affinitygives.org
.
FREQUENTLY ASKED QUESTIONS
Your savings is federally insured to at least $250,000 and backed by the full faith and credit of the United States Government - National Credit Union Administration (NCUA), a U.S. Government Agency.
Additional information can be found here: NCUA.gov
Do I need to be a member before I can apply for a loan?
No, you do not need to be a member to apply for a loan; however, you will have to join the credit union if you are approved.
Is my family eligible to join Affinity Federal Credit Union?
Family and household members of current Affinity Federal Credit Union members are eligible to join. Immediate family includes:
Parents
Grandparents
Siblings
Children (including adopted and stepchildren)
Grandchildren
What is your routing number?
Our routing number is 221283512. Sign up for direct deposit by providing this number and your 10-digit account number to your employer. If the information is needed in writing, we are able to provide a direct deposit letter.
What is the difference between a credit union and a bank?
Credit unions, unlike banks, are based on a cooperative or "co-op" model in which the members are also the owners.
This is the biggest difference between credit unions and banks. While a bank is a for-profit company that distributes profits among shareholders or individual owners, a credit union is a not-for-profit institution "owned" by its members. Therefore, you can think of credit union membership as buying a stake in an organization, rather than paying somebody else in exchange for services.