Choose Affinity for your debit card needs.
We are a not-for-profit organization that exists to serve our members. We are owned by our members and operate to promote their wellbeing by returning profits back to them in the form of reduced fees, higher savings rates, and lower loan rates. Additionally, as a financial cooperative, our members are also part owners, and each of them have a vote in the management of the credit union. We provide a safe place to save and borrow at reasonable rates, offer ongoing financial education to our members, and volunteer our time and resources to give back to our local communities.
SO MUCH MORE THAN BASIC CHECKING
Earn 1% cash back1 on everyday purchases
Start getting rewarded for your debit card purchases, including contactless, online and mobile pay purchases.
Get access to over 30,000 fee-free ATMs2
Plus unlimited check writing and withdrawals, and no-fee checking when you sign up for eStatements3.
Get paid up to 2 days sooner4 with direct deposit
Get paid up to 2 days early when you set up direct deposit for your Affinity Cash Back Debit Account.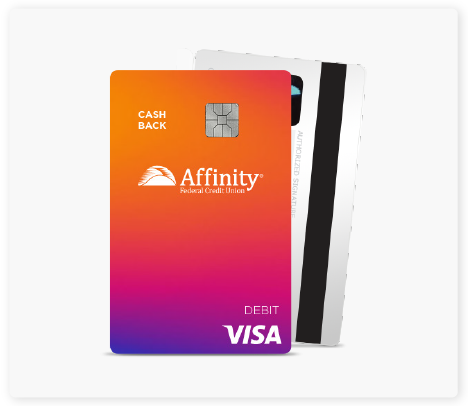 The Affinity Cash Back Debit Card is FREE with your checking account
Why pay cash for everyday items when you can use the Affinity Cash Back Debit Card? After all, cash doesn't give you 1% back on everything you buy!


Use it to pay in millions of locations that accept VISA debit
Contactless debit cards, so you'll spend less time at the store and more time on what matters
Continuous fraud monitoring and Visa's Zero Liability Policy5 protect you from fraudulent charges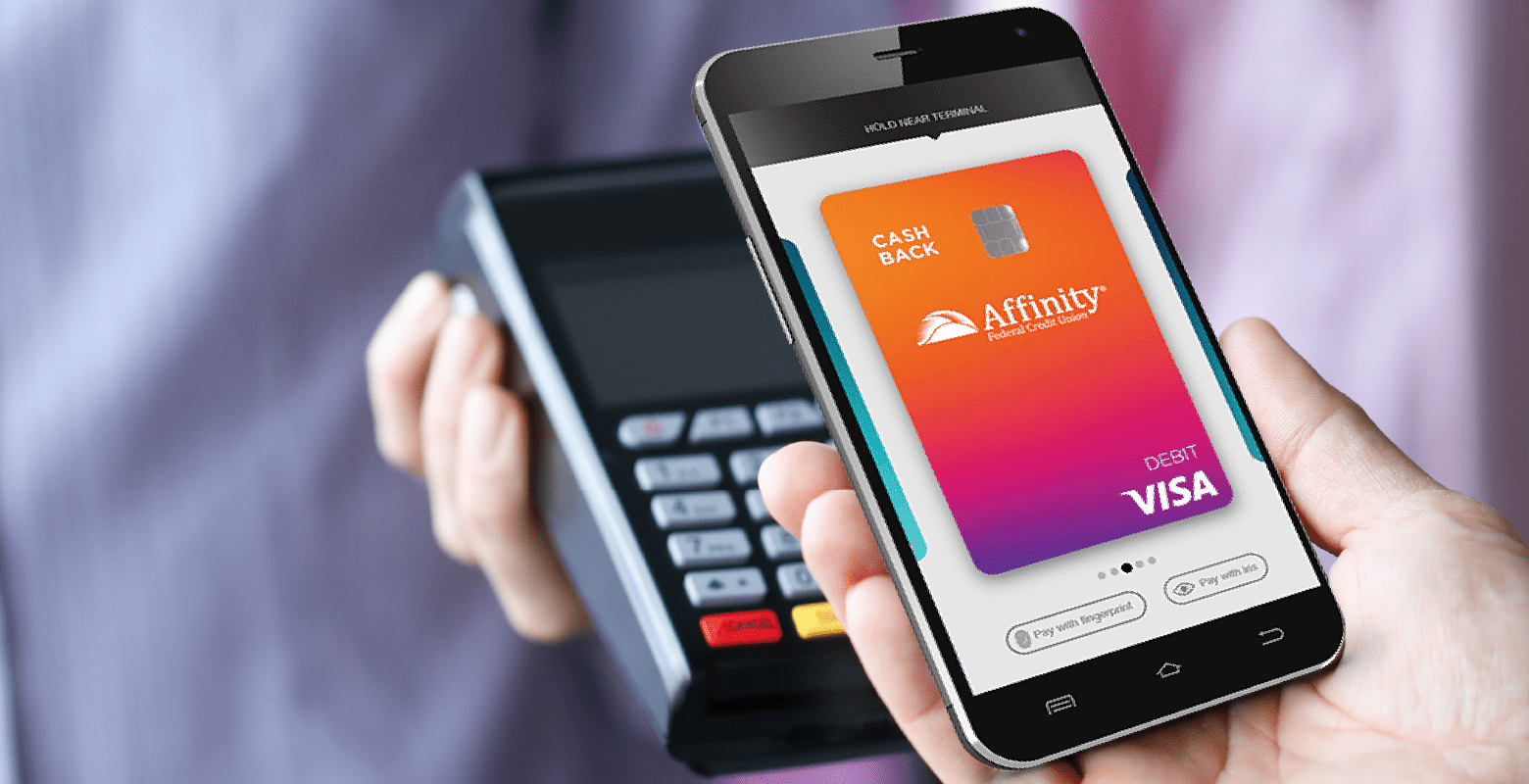 Paying Without Plastic, Securely

Tap to Pay® or put your card in your digital wallet to use with Apple Pay™, Google Pay™ or Samsung Pay™.



SOMETIMES MONEY GETS TIGHT
That's why we offer members four layers of overdraft and payment protection.
HOW TO OPEN YOUR AFFINITY CASH BACK DEBIT ACCOUNT
1
Join Affinity!
Our checking accounts, debit cards, and other service are for members only. Joining is easy:
Join online
or call us at
800.325.0808
.
2
Apply for a Cash Back Debit Account
Get started on your application online, in-branch or over the phone—click here to
view all details
.
3
Fund your account
While there's no minimum balance requirement, you'll need to deposit funds in your account to use all its features. Deposit checks with the Affinity Mobile Banking app and deposit cash at the ATM or branch. When you're ready to move your direct deposit to your new Affinity account, simply provide your checking account number and our routing number (221283512) to your Payroll Department.
FREQUENTLY ASKED QUESTIONS
Do debit cards offer cash back?
Some people think that only credit cards offer cash back rewards, but the Affinity Cash Back Debit Card rewards users with 1% cash back1 on all debit card purchases.
How does cash back work with Affinity Cash Back Debit?
Every time you make a purchase with your debit card, you earn 1% cash back1. Your cash back earnings are deposited right back into your account at the end of the month. How's that for convenience?
What is a checking account?
It's an account with a financial institution, like a bank or credit union, that lets you deposit money and access it in various ways to help you manage your day-to-day financial life. With a checking account, you can write checks, make transactions at the ATM, make online and mobile transfers, pay bills and more.
What is a checking account used for?
A checking account is typically used to deposit, hold and access money needed for daily and recurring expenses. So, for example, you may deposit your paycheck into your checking account and then use that money to pay your mortgage or rent, get cash for daily expenses, pay bills, and buy groceries.
Affinity checking account and debit card questions
What types of checking accounts does Affinity offer?
Affinity offers two checking accounts, Affinity Cash Back Debit and MoreChecking. No matter which checking account you choose, you'll always have convenient access to your money and great benefits.
What is the difference between the Affinity Cash Back Debit and Affinity MoreChecking account?
Affinity Cash Back Debit has no minimum deposit and no minimum balance requirements, and you'll earn 1% cash back on debit card purchases. MoreChecking requires a minimum balance of $1,000 and earns dividends.
How do you earn cash back on a debit card?
When you use the Affinity Cash Back Debit Card to pay for something, the cash back reward automatically happens: 1%1 of the purchase price is credited back to your account at the end of each month.
Is there a limit on how much cash back I can earn?
You earn 1% cash back1 on up to $1,000 in debit card purchases a month, up to $120 per year.
What are the requirements for opening an Affinity checking account?
For checking products, the primary applicant must be age 13 or older. We would also review each applicant's ChexSystems Consumer Disclosure to determine eligibility for membership and/or checking products.
Is the number on my Affinity Cash Back Debit card the same as my checking account number?
No. Your debit card has its own number, and is linked to your checking account, which has a different number. Your checks will show the account number at the bottom, as well as the routing number for Affinity Federal Credit Union (221283512).
How do I move my direct deposit paycheck to Affinity?
When you're ready to move your direct deposit to your new Affinity account, simply provide your checking account number and our routing number (221283512) to your Payroll Department.
How can I avoid overdrawing my account?
We have you covered with overdraft protection options designed to help when there is not enough money in your account to cover a transaction. Learn more about Affinity Standard Courtesy Pay, Debit Card Courtesy Pay, Overdraft Protection Plan and Overdraft Line of Credit.
Can I use my Affinity Cash Back Debit Card for mobile payments?
Yes. You can add your card to your mobile wallet to pay with Google Pay™, Apple Pay™ and Samsung Pay™.
Join Affinity Federal Credit Union
How do I join Affinity?
Almost anyone can be eligible for membership! We have relationships with over 2,000 businesses, associations and clubs, and you can join Affinity through your association with one of them.

If you are not eligible through one of these paths, you have the option to join by making a one-time $5 donation to the Affinity Foundation whose vision is to end the cycle of poverty for those we serve.
What is the fee to join?
With Affinity you are more than a member, you are part owner. Affinity is owned and controlled by members who use its services.

This ownership happens when you establish your $5 membership account, which gives you one par value share in Affinity. This is not a transactional account, and these funds will not earn dividends. The account must remain open and funded with the $5 during your membership with Affinity.
Where is the closest branch location?
Our digital tools, such as the Affinity Mobile Banking App and Online Banking, make it easy to manage your account and deposit checks right from your phone. You can also view our branches, shared branching locations and ATMs by visiting Affinity locations.
What is the difference between a credit union and a bank?
Credit unions, unlike banks, are based on a cooperative or "co-op" model in which the members are also the owners. This is the biggest difference between credit unions and banks. While a bank is a for-profit company that distributes profits among shareholders or individual owners, a credit union is a not-for-profit institution "owned" by its members. Therefore, you can think of credit union membership as buying a stake in an organization rather than paying somebody else in exchange for services. Learn more.