Financial Love Language: 5 Tips To Talk About Money With Your Partner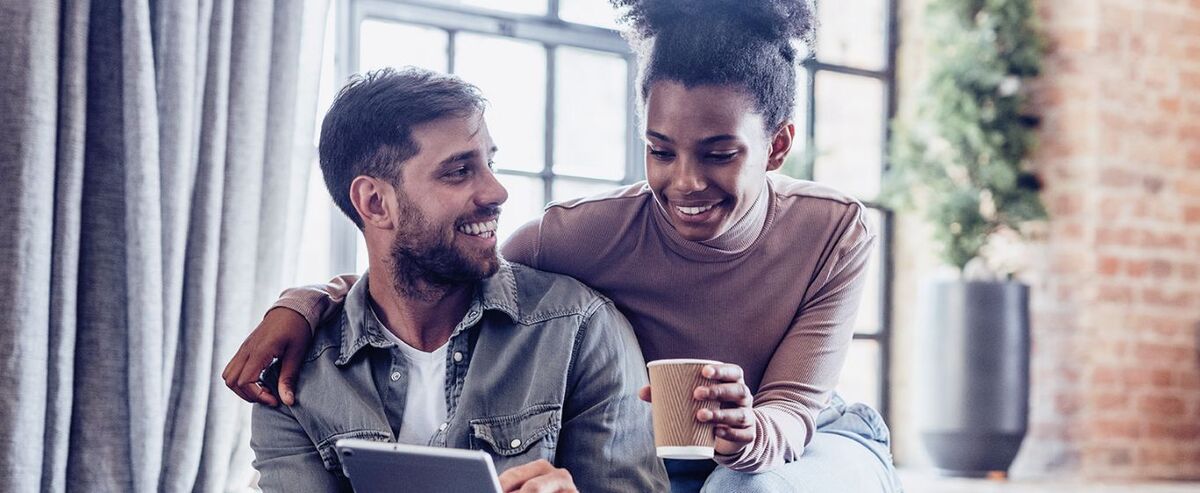 Date: February 11, 2022
With February comes Valentine's Day and an air of romance as couples solidify their date plans and buy each other sentimental gifts. But, for many young couples, romance is not the only thing needed to keep a relationship strong. In addition to date nights and romantic gestures, couples need to make sure they set time to talk with each other about their finances, and how they can work together to achieve shared financial goals.
In the early days of a relationship, most people aren't thinking about money or what a shared financial relationship looks like. But as a couple begins to merge their lives together months or years down the line, talking about money becomes more important. Many young couples don't know how to approach the subject of money, especially if they have just moved in together or gotten engaged, but it is extremely important to be on the same page financially in order to achieve common goals. Here are five tips on how to talk with your partner about money:
Understand each other's money mindset. How you're raised can really impact how you feel about money.[1] Someone whose parents lived paycheck to paycheck will likely approach their finances a little differently than someone who never had to worry about expenses growing up. It's important to understand how your partner feels about their money, especially if they were raised with a different mindset. More importantly, make sure you and your partner are working together to achieve financial wellbeing both individually and as a couple.
Discuss your financial goals. What does your partner want to accomplish with their money in five or 10 years? What are your own goals and values,[2] and do they align with your partner's? Knowing what each other is working toward will help create accountability and can emphasize what you have in common. This is also a great opportunity to establish any financial goals you might have as a couple. Do you want to save up for something like a vacation, house or wedding in the near future? How can you work together to achieve that?
Think about if or when you might combine finances. Talk about whether combining finances[3] would be the right move for your relationship and when might be a good time to do so. Some couples always keep their finances separate, while some choose to have separate and shared accounts, and others put all of their money into one shared account. There is no universal correct approach. You and your partner need to figure out what is best for you individually and as a couple. But determining that will require open and honest communication.
Establish spending limits. If you do share a bank account with your partner, you should remember that money is theirs as much as it's yours. That means it might be a good idea to establish what your money should go toward. Many couples opt to set a spending limit, which is the amount you're allowed to spend without first having to consult your significant other. Of course, this limit will depend on your financial situation and goals, so it's a good idea to sit down and discuss what works for you.
Have regular check-ins. The money conversation is not a one-and-done discussion. You and your partner should regularly go over bills and spending to make sure expenses are covered and you're still working toward your goals. It's important that both people are involved and contributing to any shared financial situation.
A healthy relationship with money will help keep your relationship with your significant other healthy as well. Money isn't always the easiest thing to talk about, but a strong relationship should be based on transparency, even when it comes to finances. For any couple in a serious, long-term relationship, or entering one, conversations about money are necessary. So this Valentine's season, as you plan your romantic dates with your partner, be sure to also make time for the serious conversations. You just might find that they bring you closer together, too. Affinity members have access to our live webinars and recordings that cover topics like budgeting, saving, home buying, and more! Visit our webinar library[4] and upcoming calendar.[5]
This information is for informational purposes only and is intended to provide general guidance and does not constitute legal, tax, or financial advice. Each person's circumstances are different and may not apply to the specific information provided. You should seek the advice of a financial professional, tax consultant, and/or legal counsel to discuss your specific needs before making any financial or other commitments.
Retrieved From:
1- https://www.businessinsider.com/money-relationship-advice-2019-4
2 - https://www.forbes.com/sites/mayakachroolevine/2017/03/27/love-money-financial-talks-to-have-at-every-stage-of-your-relationship/?sh=63a3d2694b76
3 - https://www.nbcnews.com/better/business/3-money-conversations-you-your-partner-need-have-ncna846016
4 - https://www.youtube.com/playlist?list=PLT4XaNraDI-rdt9bc_pSuvug8LCJqynXt
5 - https://www.affinityfcu.com/contact-us/events-seminars/index.aspx