Navigating Your Options at the Car Dealership Buy vs Lease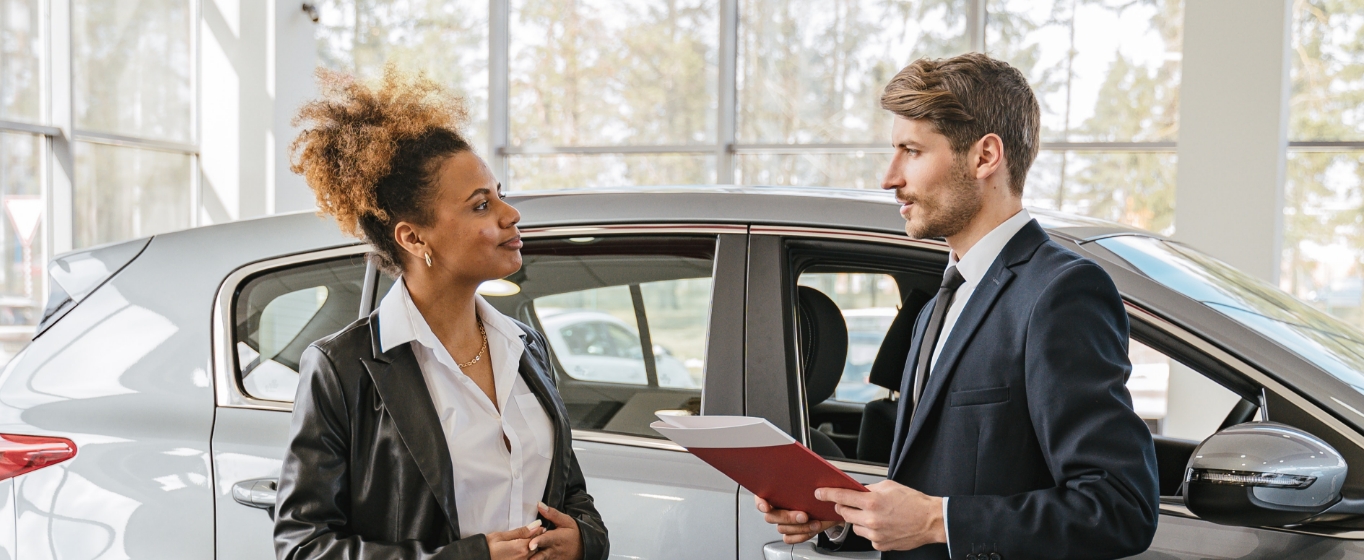 June 3, 2022 – If you are in the market for a new vehicle, aside from picking out a car, you will have to decide between buying or leasing.
There are different factors that go into the decision, one of the most important being the amount you will pay per month. According to an Experian study1 on the state of the automotive finance market, the average monthly payment for a lease in 2021 was $466, and the average monthly payment for a loan was $575.
Customers have three options for purchasing a vehicle at a dealership including leasing, financing, or buying a car outright. Leasing and financing are the two more common options because they allow the customer to pay monthly payments, as opposed to paying the full amount with cash up front. There are pros and cons to each purchase method, and the best decision varies depending on the personal situation of the customer.
Leasing a Car
Leasing a car can be a confusing process because you are technically not the owner of the vehicle, even though you are paying for it. When you lease a vehicle, you sign a contract which is typically two or three years and pay a monthly payment to a leasing company. Once the lease is over, you return the vehicle and start the car buying process all over again. In order to qualify for a lease, you must have a strong credit history. Many leasing companies require a FICO score of 700 or above. Another caveat to leasing is there are limits on how many miles you can drive a year and if you move you might not be able to take the vehicle to a new state. Leasing companies typically give you the choice of 10,000, 12,000, or 15,000 mile per year leases. Lastly, vehicles cannot have excessive wear and tear so you must take good care of the vehicle. Even though a lease may seem like a long-term rental on the surface with a lot of rules, there are a lot of advantages to leasing.
One of the biggest advantages of leasing a car is affordability. Leasing is typically cheaper than buying a car because you are only paying for the vehicle which is typically a two- or three-year stretch. Leasing makes car buying easier to afford on a monthly basis, especially with higher-end cars. Another benefit is you are fully covered under the factory warranty. This means that if your car needs a major repair during the term of the lease, you are not responsible to pay for the repair if it is covered under the warranty. Another advantage is that it offers flexibility to those who don't want the commitment of purchasing a vehicle. If you are someone who likes frequent change, leasing a car is a great versatile option. Mileage restrictions may actually be a positive feature for a customer who typically drives fewer miles. Overall, leasing can be a great option for car buyers in any walk of life.
Buying Overview
Buying a car is the most common option because you become the sole owner of the car. The process is straightforward, you can either purchase outright or finance. When you finance a vehicle, a credit lender will pull your credit and determine the loan they can offer you. Since you are financing a significant amount, a down payment is recommended, and is often required by some lenders. You would then pay a monthly payment to the credit lender for the length of your contract, but you do have the option to pay off the loan early if you wish. Once the loan is paid off, you are then the sole owner of the vehicle. An important factor to keep in mind is you will be responsible for all maintenance the vehicle needs once the factory warranty expires, and repairs can often be expensive.
The biggest advantage of buying is having a physical asset you own once your loan is paid off. Owning a car while not being obligated to make payments monthly offers a lot of flexibility. Not having to worry about a car payment in your monthly budget can relieve a lot of stress in your budget and play a positive role in your financial wellbeing. Another advantage is that you can customize the car however you want and there are no limits on how many miles you can put on the vehicle. Buying a car is an all-around great option if it makes sense for your financial situation.
Overall, leasing is the preferred option when vehicle costs are higher, your driving habits keep you within mileage limits and/or you want a new car every two to three years and don't want to worry about long term maintenance. Taking a loan is favorable if you drive more than the mileage limits, don't want to worry about dings to the car and you would like a period post loan without a car payment. Overall, if you are in the market for a new vehicle, consider what you can afford and compare all your options. Get a pre-approval for a loan from your local credit union so you know what you can afford. If you have any questions, be sure to check with a trusted professional to point you in the right direction and make sure all of your car buying needs are met.
This information is for informational purposes only and is intended to provide general guidance and does not constitute legal, tax, or financial advice. Each person's circumstances are different and may not apply to the specific information provided. You should seek the advice of a financial professional, tax consultant, and/or legal counsel to discuss your specific needs before making any financial or other commitments.
1 Retrieved from: Credit Karma.