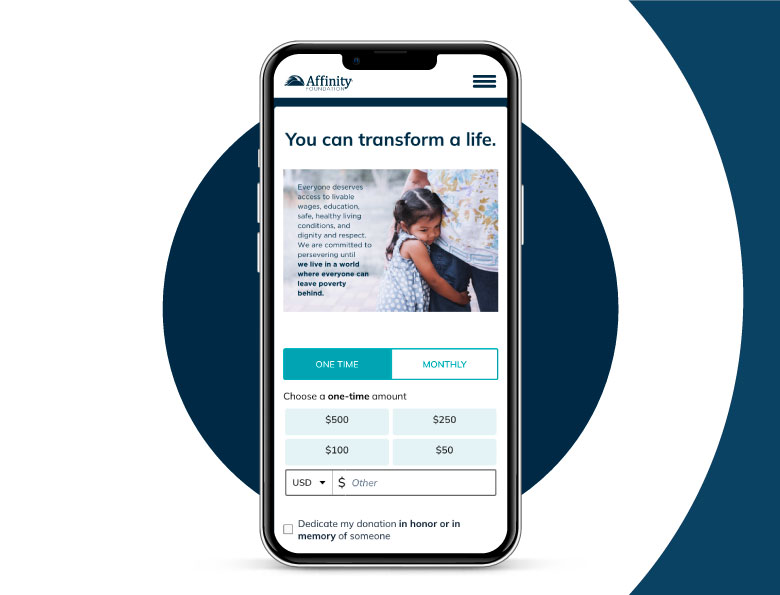 Make a Donation
When you give to the Affinity Foundation, you support critical programs and services for young people, adults and families who need them the most.
Honor or remember someone special by making a gift in their name.
Double your donation and double your impact! Use the employer match tool to see if your employer will match your donation.
Donate Here
Give by Check or Stock
Make a gift of your securities to help those who need it most. We accept donations by check, ACH, and stock.

Qualified Charitable Distributions
If you are age 70 or older, you may be able to give up to $100,000 per year from your IRA.

Legacy Giving
Make ending poverty a part of your legacy by leaving a gift in your will or making a beneficiary designation of retirement plans, life insurance, or annuities.
Become a Member of the Foundation
A donation as little as $5 would give you benefits that include:
Community Impact
Making an Impact
in Your Community
Vote
Ability to Vote
for a Board Trustee
Foundation Initiatives
Receiving Communications
About Foundation Initiatives
Foundation Events
Access to
Foundation Events
Volunteer Events
Invitations to Volunteer Events and More
FAQs
Yes! Select the "Bank Transfer" option at the bottom of the form to donate by ACH.
Is this donation tax deductible?
The Affinity Foundation is a 501(c)(3) tax-exempt organization and your donation is tax-deductible within the guidelines of U.S. law. To claim a donation as a deduction on your U.S. taxes, please keep your email donation receipt as your official record. We'll send it to you upon successful completion of your donation.
What fees are covered if I select to include them in my donation?
When you opt to cover the fees associated with your donation, you are helping to cover the cost associated with using the Classy platform, ensuring 100% of your donation goes toward our mission.
What is the relationship between the Affinity Foundation and Affinity Federal Credit Union?
The Affinity Foundation is a 501(c)(3) non-profit charitable foundation established in 2005 to support charities in communities along the Affinity Federal Credit Union branch footprint. The Affinity Foundation is a separate, independent legal entity, incorporated in New Jersey and operated by Affinity Federal Credit Union employees.
Where can I mail a check?
Affinity Foundation PO Box 430 Martinsville, NJ 08836
Where is the Affinity Foundation registered to fundraise?
What are the benefits of joining the Foundation vs making a one-time contribution?
Becoming a member of the Affinity Foundation gives you the opportunity to improve the lives of people in your community who are living in poverty. When you join the Foundation, you become a catalyst for making sustainable change. Learn more about the benefits of membership or join here.